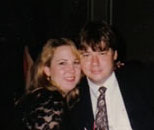 As you may have heard, the wife of brother Bill "Pickle" Dlhosh '92 passed away on October 17th. Shannon was only 42 and now Bill has the biggest challenge of his life in raising his 3 daughters: Lily 13, Emma 10, and Allison 5 without their Mom. Luckily, Bill has a great support network of family, friends, neighbors, and the brothers of Sigma Chi.
Many brothers made the trip to Atlanta to attend the service and to support Bill and the girls including: James "Gassi" Ahrens, Mitch & Nikki Nimey, Rich & Carmen Schooley, John Wrightington, David Hines, Brett Reasner, Todd Weeber, Gary Granger, Larry Hesterberg, Chris MacDougal and Bill Ulm's wife Pam. There were many other brothers who wanted to make it, but couldn't. Bill was very appreciative of all the love, support, and strong arms around him.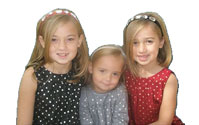 Several of us are working together to build a support mechanism for Bill and the girls to help fill the gap left behind with Shannon's untimely passing. We are working closely with their neighbor and Shannon's best friend Mandy Cross. We have set up a bank account tied to a Paypal account to help Bill financially support raising his 3 young girls.
Gassi has built a website (dlhoshdivas.org) for the family to focus the donations in one spot so the money gets to Bill and the girls. There are 3 levels of donations:
Short Term – Girls gymnastics, girls scouts, field trips, clothes, school supplies, bills, etc…
Medium Term – House repairs including roof, gutters, plumbing, carpet, etc…
Long Term – Girls college fund through 529 program
FEE NOTE: When using payment buttons, a fee of approximately 3% will be deducted from the donation by Paypal as their fee. To make 100% of your donation go to the fund, use your Paypal account to "send money" to dlhoshdivas@aol.com and fund the payment with either your Paypal account, or bank account. (John Wrightington is the account administrator for that paypal account. You may see his name when processing the payment.)
Bill has been very humbled and appreciative of the generosity everyone has shown his family. Several brothers have donated already and many have pledged their support.
If you'd like send a check, for 529 College Savings Plan you can make checks out to "Georgia Higher Education Savings Plan" or "Bill Dlhosh" for expenses and house repairs:
Bill Dlhosh
c/o Mandy Cross
4804 Hunters Trace
Powder Springs, GA 30127